Customer management is a business process in which client relationships, customer loyalty and brand value are built through marketing strategies and activities. E-CRM allows any businesses to develop long-term relationships with established and new customers while helping streamline corporate performance. Our E-CRM incorporates a lot of functionality to communicate with customers, such as customer email verification, tracking email status (opened-not opened), tracking links in email body, Sending SMS, sending documents to customer by SMS, email or Fax, using advance secure technology and much more..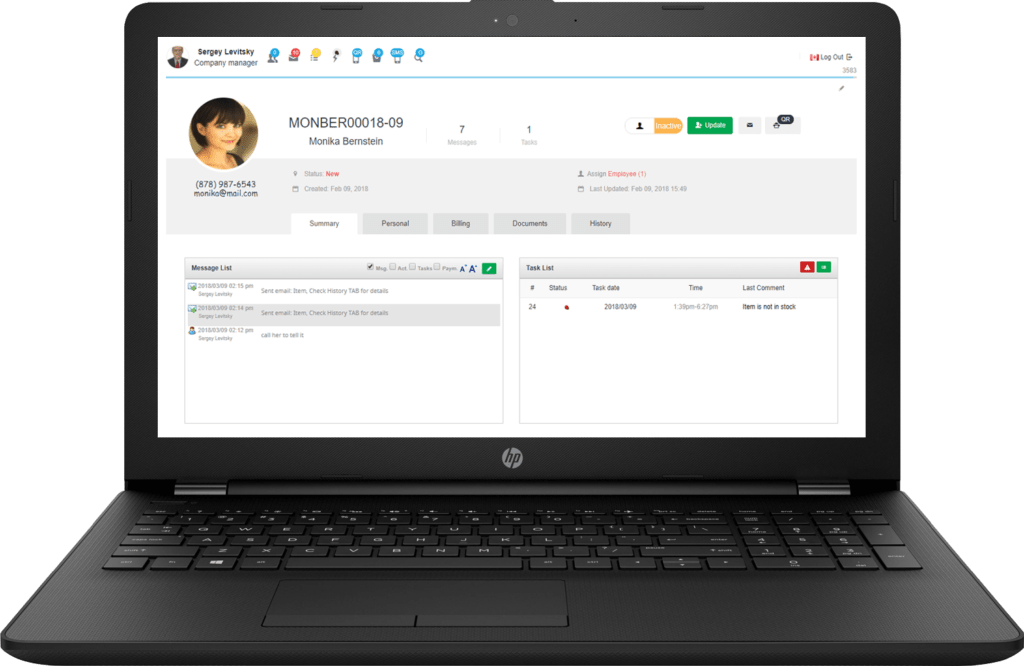 E-CRM customer management:
Message list. History of all activity with current customer. Sorting and searching by type and priority. 
Task list. Set/update tasks assign to current customers.. View Task today & tasks history. 
Warning messages.  Add very important notes about this customer. The employee must confirm warning before starting work with this customer.
E-CRM use special formatting mask to easy entering information.
Customer address verified by Google data base.
You can view map and street view for customer information identification.. 

Leads support

Export and import customers and leads
Duplicate protection. Inform employee about the similar customer in the system.
Use webcam or  drag & drop uploader to add customer photo to profile
Real time email verification. Employee can check email address (exist or not)  in one click.
Build-IN SMS, Fax, email,  Click2Call function, record calls help communicate with the customer.
Customer documents management with document tree, drag and drop files between folders,  converting to PDF, shared folder and files, preview documents and more..  
Sending the documents to customer for review or/and E-Signature, using advance secure technology
Creating document templates with active values, filling out a template using customer information.
Shared customer documents between employee
Notes tree.  Add notes about customer
History of customer activity.  View incoming & outgoing email, View customer statuses history,  updating profile, orders and invoices, assign to this customer.
Print customer label with QR code
Assign multiple employee to  customer
Assign services to customer
Set current status for  customer
Generate order and invoice  based of services
Send emails to customer using templates
Fully customization of customer profile

  All customer names, phones and emails are fictitious and used for demonstration purposes