Customer management is a crucial business process that involves building and maintaining client relationships, cultivating customer loyalty, and enhancing brand value through effective marketing strategies and activities. Electronic customer relationship management (CRM) is a powerful tool that enables businesses to establish and nurture long-term relationships with both new and existing customers, while also streamlining overall corporate performance.
Our ALL-IN-CRM system offers a wide range of advanced features and functionalities to facilitate seamless communication with customers. This includes email verification to ensure accurate contact information, tracking email status (i.e., whether an email has been opened or not), monitoring links within the email content, and sending SMS and documents to customers via email, SMS, or fax. Additionally, our system incorporates cutting-edge security technology to ensure maximum protection for customer data and other sensitive information.[AI]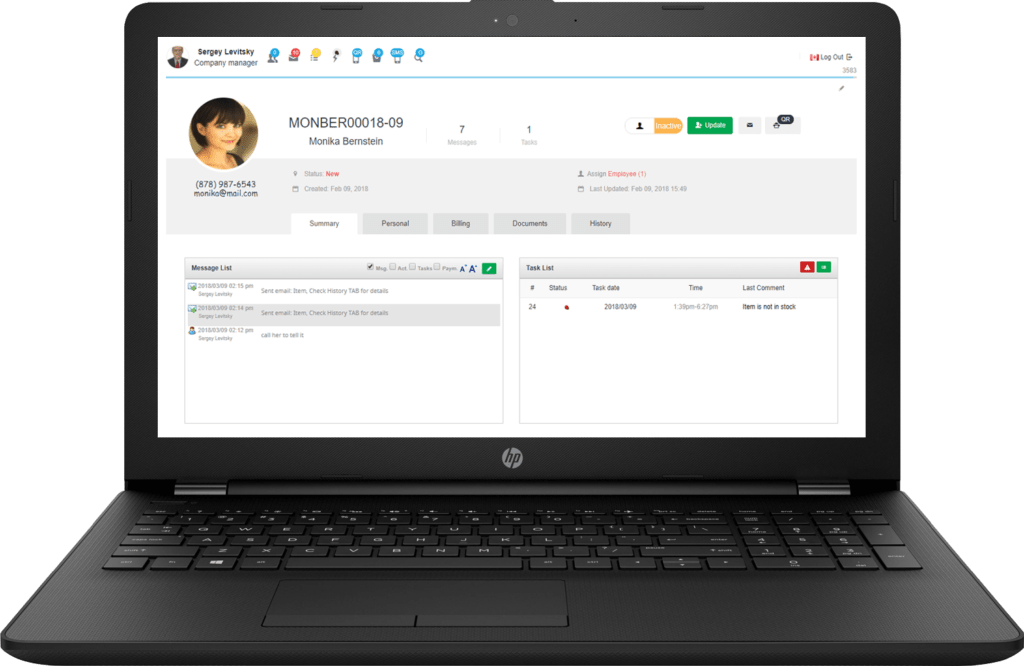 ALL-IN-CRM customer management:
The message list provides a complete history of all interactions with a customer, and it can be sorted and searched by type and priority. The task list allows for the creation and updating of tasks assigned to current customers, including the ability to view today's tasks and task history. Warning messages can be added to a customer's profile for important notes that must be confirmed by an employee before working with the customer.
E-CRM uses special formatting to simplify the process of entering customer information. Customer addresses are verified through Google's database, and the system includes a map and street view for easy identification. Additionally, the system offers support for leads, as well as the ability to export and import customers and leads. Duplicate protection alerts employees about similar customers in the system.
Advanced search features are available to help employees quickly find the information they need, and the system allows for the upload of customer photos using a webcam or drag-and-drop uploader. Real-time email verification is also available with just one click. The system includes built-in SMS, fax, email, and Click2Call functions, and calls can be recorded for future reference.
Customer documents can be easily managed through a document tree, with the ability to drag and drop files between folders, convert files to PDFs, and share folders and files. Documents can be sent to customers for review and e-signature using advanced secure technology, and document templates with active values can be created using customer information. Customer documents can also be shared between employees, and notes can be added to the customer profile.
The system maintains a complete history of customer activity, including incoming and outgoing emails, customer status updates, profile updates, orders, and invoices. The system also allows for the printing of customer labels with QR codes, assigning multiple employees to a customer, assigning services to a customer, setting a current status for a customer, generating orders and invoices based on services, and sending emails to customers using templates. The customer profile is fully customizable to meet the needs of each business.[AI]

  All customer names, phones, and emails are fictitious and used for demonstration purposes