A warehouse management system (WMS) is software and processes that allow organizations to control and administer warehouse operations from the time goods or materials enter a warehouse until they move out. Operations in a warehouse include inventory management, picking processes and auditing.
Our E-CRM includes all modules to do standard WMS  process and connected to the order and invoice management system. E-CRM use QR and barcodes for identification warehouse items.  You do not need to buy special equipment, you can use standard mobiles phones and tablets.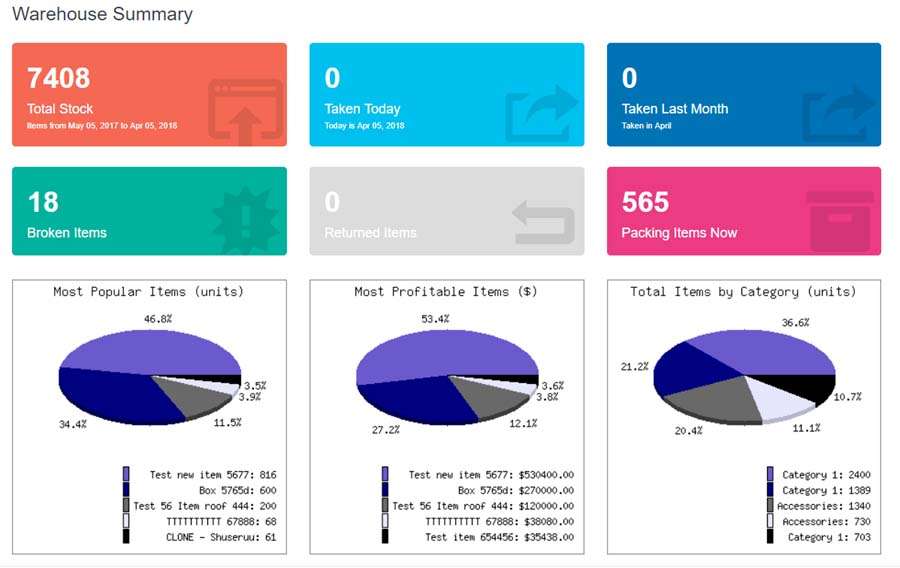 E-CRM warehouse management:
Unlimited warehouses in any location

Unlimited Shelves in each warehouse
Unlimited Product categories with 3 levels of subcategories 
Product types for each category.
Editable product statuses
Custom Product options, like size, color, etc. for each category.
New product registration from mobile devices or PC
Manual (for existing) & auto entering SKU number, scan existing Barcode SKU using mobile device
Support suppliers for each product
Easy to setting custom options, types and categories
Creating order with products list
Send order to packing, packing boxes management
Manage shipping and tracking 

Support UOM   (Unit of Measure)

Support different currencies
Distributor and Retailer prices
Product QTY, and stock inventory viewer
Monitoring employee who take out or return product
Unlimited product images. Can be add directly from mobile device or upload from PC
You can delete and rotate images
Print QR label for each product 
Support printing Multiple labels
Shared QR labels for each product

Warehouse products list with advanced search

History of taken product from the warehouse
Real-time stock inventory balance
Updating stock inventory qty
History of stock inventory balance
Broken items management, stock correction, photos
Discontinued Products list
Warehouse products,  import, and export