A  Credit Memo is a commercial document issued by a seller to a buyer. Credit Memo act as a source document for the sales return journal. In other words, the Credit Memo is evidence of the reduction in sales. A Credit Memo is evidence of a reduction in the amount a buyer owes a seller under an earlier invoice.
A Credit Memo lists the products, quantities, and agreed prices for products or services the seller-provided the buyer but the buyer returned or did not receive. It may be issued in the case of damaged goods, errors, or allowances. In respect of the previously issued invoice, a Credit Memo will reduce or eliminate the amount the buyer has to pay.
All-IN-CRM has Credit Memo functionality with a lot of specific options. Credit Memo created for specific customers and operator can add to Credit Memo only product which customer was bought last 3 month (term of return, editable). In ALL-IN-CRM Credit Memo operator can use for each product's discounts, broken, returns and CRM will automatically modify the product stock.
The operator will be able to add a Credit Memo receipt to a customer's wallet and use it for return to the customer or make a partial payment for the next invoices.

Credit Memo details (manage a product in Credit Memo)
---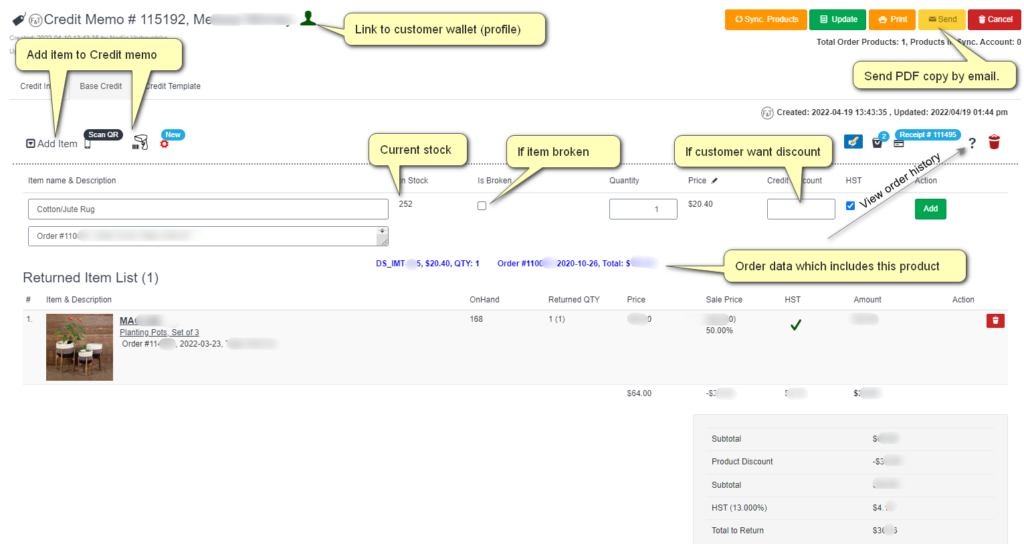 Credit Memo in Customer Profile
---